WIC program
WIC is a supplemental nutrition program for Women, Infants and Children that is designed to help you and your family to eat well and be healthy.
Good nutrition will help provide the best possible start in life and is a necessary ingredient for you and your child to grow up healthy & strong.
WIC Hours
The first and third Thursday of the month by appointment only.
Location
WIC appointments are at the Schuyler County Health Department. 

Who is Eligible for WIC?
-Women who are pregnant, breastfeeding, or whose pregnancy recently ended.
-Infants under 12 months old.
-Children under 5 years old
What are my responsibilities while on the WIC program?
You must keep your WIC appointments. If you can't keep an appointment, please call your local WIC office right away. The WIC staff works hard to see you at your appointment time so please try to be on time. Always bring your WIC ID folder to your appointment and to the store. Take your WIC Approved Food List with you to the store to help you shop. Be sure to buy the correct foods in the correct amounts with your checks. WIC foods are to be used for the family member printed on the check, not the whole family. They can't be returned to the store for money, given away, or sold to someone else. Be sure to bring the information that the WIC staff needs when they ask for it and be sure to inform them of any changes in your name, address, or phone number. If you are moving please notify your WIC staff, you can only be on WIC at one WIC clinic at a time.
How can my family benifit from WIC?
You will receive checks for supplemental foods and, nutrition and health education to help you and your children eat well and stay healthy. You will receive support and get help with breastfeeding along with personal counseling about nutrition. You will also be able to receive referrals to other health programs for you and your family.
WIC clients are encouraged to breastfeed their babies. In order to support new moms, we offer breast pumps to our WIC clients for a $15.00 deposit that is refundable when returned.
What are the benefits that WIC provides at no cost to you?
-Nutrition education and guidance for you and your children
-Breastfeeding education and support
-Breast pumps
-Referrals for health care
-Nutritious food to supplement your diet
What foods are covered by WIC?
-Dry or canned -beans/legumes
-Fresh or frozen fruits and vegetables
-Whole grain cereal
-Whole grain bread, whole -wheat or soft corn tortillas, or brown rice
-Soymilk (issued as necessary)
-Infant foods – cereal, jars of fruit and vegetables, and infant meat for those who qualify
-Milk and cheese
-Eggs
-Juice
-Canned fish for breastfeeding moms
-Peanut Butter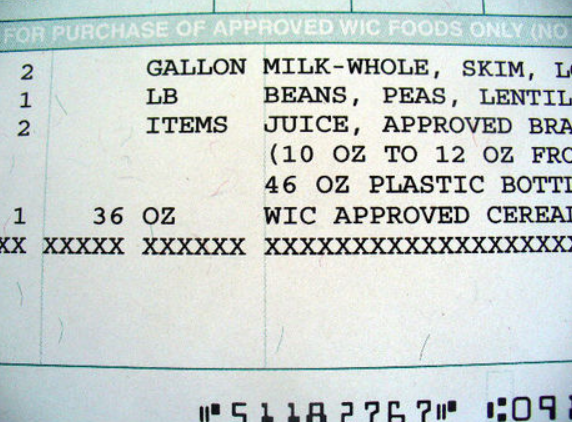 How are WIC checks used?
Before you go shopping be sure to tear off the checks that you will be using. Choose only the foods that are on your WIC check, if you do not get an item on a check you miss out on that benefit that month. When checking out, separate your WIC foods from other foods that you are buying. Tell the cashier that you are using a WIC check and show the cashier your WIC ID folder. Sign your checks after the cashier enters the purchase, don't sign them before. The cashier will then match your signature with the one on your ID folder. If you get two or three months of checks, be sure to use the correct month first. You must use your checks in the state of Missouri.
*Notice, this location no longer issues WIC Checks.
However, any location offering checks are good until October 31st then Missouri WIC will fully switch to the eWic Card. *

Missouri 2020 eWIC
What is eWIC?
WIC benifits available to you and yourhousehold, for current and future months, that are places on an eWIC card.
Is it easy to use?
Food benefits are added to the eWIC card during your WIC appointments.
The card allows you to buy only what you need.
Benefits remain on the eWIC card until they expire at the end of the month
Safety Tips
Fraud
Lost, Stolen, or Damaged Cards
Safety Tips
Keep your PIN private. Only Share your PIN with someone you trust.
Do not write your PIN on the eWIC card.
If you forget your PIN or want to change it, visit your WIC local agency.
Fraud
To report suspected Fraud, call (800) 424-9121 or visit www.usda.gov/oig/hotline.htm
Lost, Stolen, or Damaged Cards
Immediately contact your WIC local agency or call (800) 554-2544, 24 hours a day, seven days a week.
How do I shop with my new eWIC card?
Review the shopping list provided from your WIC local agency or ask the store for a printout of your benefits balance.
The shopping list will identify all household food benefits on the eWIC card
Shop only at approved WIC retailers that are identified with the decal.
Tell your cashier you are using an eWIC card before items are scanned.
Inform the cashier if you have any coupons you would like to use.
The cashier will ask you to insert your eWIC card, enter your four-digit PIN, and press the enter button on the keypad.
The WIC-approved food items will be deducted from the eWIC card.
Check receipt to ensure the items are correctly deducted and press the key to confirm your purchase.
If your purchase non-WIC items, the cashier will as you how you would like to pay for those items.
When the WIC transaction is complete, you will be prompted to remove your card and a tone or beep will sound.
The cashier will give you a receipt with your remaining balance for the current month.
Make sure you have your eWIC card and receipt when you leave the store.
Unused benefits will not carry over to the next month.
Frequently Asked Questions for eWIC
https://health.mo.gov/living/families/wic/pdf/reading-your-ewic-receipt.pdf
An eWIC card holds WIC food benefits that the participant can use at the grocery store.
Will SNAP benefits and WIC benefits be on the same card?
No. The eWIC card for the WIC program will be separate from the EBT card for the SNAP program.
Will participants still be able to use their checks that were already printed?
Yes. Participants will still be able to use their checks until they run out and should have no reason to switch over to an eWIC card early unless they have a food package change or the checks are stolen.
Will the eWIC card be able to have three (3) months' worth of benefits loaded onto it?
Yes. The eWIC card will have the ability to hold three (3) months' worth of benefits. Unused benefits will expire in the same way as they do with the current check system. Participants will still have to return to the WIC clinic to receive additional benefits and nutrition education.
Will there be one (1) card for all household members on WIC?
Yes. All family members on WIC in the same household will have their benefits on one (1) card. Foster children will receive their own cards. You will use this card at every appointment to add the next set of benefits. The card is not to be used and then thrown away.
Only the authorized representative can change the PIN for an eWIC card.
Do participants need to show identification with their eWIC card at the grocery store?
No. Proper identification is not required with the eWIC card at the grocery store. The PIN will be the participant's identification for using the card.
How will the eWIC card work at the store?
The process will be very similar to using a debit or credit card. Participants will shop for their WIC approved items as usual. At checkout, the eWIC card will be inserted into the card reader where WIC approved items will be deducted from the balance of the benefit package on the card. Unused benefits will remain on the card and will expire the last day of the month at midnight.
What happens if a participant loses their card?
If a participant loses their eWIC card, it will be placed on the Hot Card List and after a 5-day waiting period the authorized representative will be able to come into the local agency with appropriate proof of identity to get a new one.
Will retailers accept checks and eWIC cards?
Yes. With the transition to eWIC, retailers will accept both eWIC cards and checks.
Can eWIC cards be used at self-checkout registers?
No. Technology is still under development by retailers.
Can participants shop in other states with their Missouri eWIC card?
No. Missouri eWIC cards are ONLY accepted at Missouri authorized WIC retailers.
What happens to eWIC cards of foster children when they move to a different household?
The eWIC card should follow the foster child. Each foster child will be assigned an eWIC card of their own. If multiple foster children reside in one household, the authorized representative may label each card with the child's initials to keep them separated.
Can eWIC cards be used at all stores?
No. Missouri eWIC cards can only be used at stores displaying the Missouri eWIC Authorized Retailer decal.
What should I do if an item on the WIC Approved Food List does not get deducted from my eWIC card at checkout?
After scanning all items, WIC-approved food items will be deducted from the eWIC card. Check the receipt to ensure the items are correctly deducted before pressing the key to confirm your purchase.
What is the WICShopper Application?
WICShopper is a specialized WIC smartphone application. The application will assist participants in identifying WIC-approved food items at the grocery store. The application will allow participants to scan an item's Universal Product Code (UPC) to ensure that it is a WIC-approved item before checking out. The application will feature nutritional information, food preparation tips, and recipes to help WIC participants get the most out of the WIC program.
After your local agency transitions to eWIC, you will receive your eWIC card at your next scheduled appointment. There is no reason to switch over to an eWIC card early unless you have a food package change or your checks are lost or stolen.
My partner and I share the shopping in our household. May we each get a card for the same account?
No. Only one card is assigned per household.
Make an appointment at your local WIC clinic
Schuyler County Health Department in Lancaster Missouri. 213 S Green Street. (660) -457-3721
USDA Nondiscrimination Statement https://www.fns.usda.gov/civil-rights/usda-nondiscrimination-statement-other-fns-programs